I ordered some items from bundlemonster.com, and they came in the other day.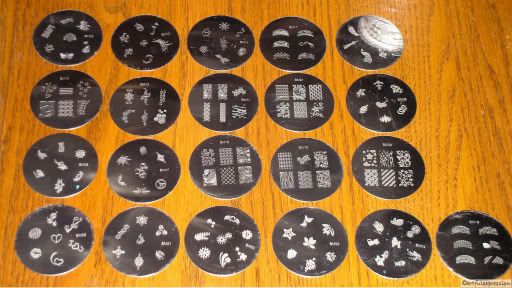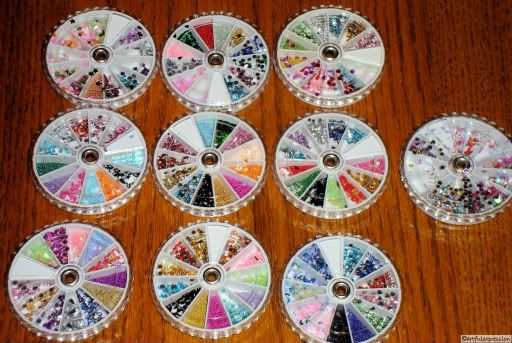 I got 21 fauxnad plates at a price of 17.99$ US, and 10 gem/decal/bead wheels for 17.99$ US as well (I believe it is listed as 14000 gems/beads). This is a great deal. The shipping time was very reasonable, and honestly, the plates are a steal! Now if only my Konad order would arrive. One of the gem wheels had a broken cover when it arrived, and some of the little beads fell out, but honestly that isn't a big deal to me, as I originally ordered them for the gems. The plates have a variety of images on them, from full nail, to tips, to smaller images (flowers, hearts, butterflies, animals, sweets, to name a few). All in all I am extremely pleased with this order, I believe it is a great deal for all that I received. I cannot wait to use the plates, and will post if for some reason they aren't of quality once used.
NOTD: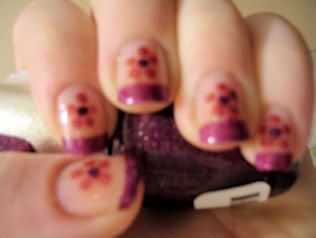 I wanted to play with my dotting tool. The base is 2 coats of Essie- True Love, the tips are OPI- DS Extravagance, and the flower leaves are OPI- DS Tapestry. Unfortunately I don't believe I was able to pick up the holo effects of the OPI polishes in my picture. I also noticed that you can see the staining of my nails through the Essie, despite a base coat. Lesson learned, never wear any nail polish without a base coat (my staining is thanks a pretty Orly green polish). If anyone has suggestions on how to remove/lessen the staining on my nails I would be grateful for your advice.