So finally after a lot of hassle and aggravation my order from Konad arrived. Basically Purolator sucks, big time. My order arrived (Konad company is based in Singapore), but Purolator failed to give me notice in any way shape or form, and decided that since I didn't pick up a parcel that I had no clue had even arrived, they shipped it back to Singapore on me. Luckily a company that works on behalf of Konad in the USA stopped my order in Toronto and got it shipped back to me. I received great service on Konad's part (http://www.konadnailart.com/) and am now gonna be weary each time I make an order that it may come through Purolator :/
My order: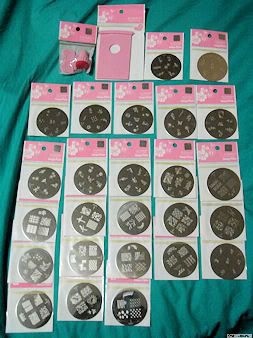 I then found a new place in the city to buy nail polish that I didn't previously know existed and proceeded to make a big haul, also visiting some regular spots.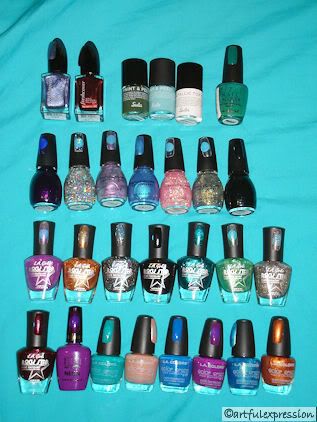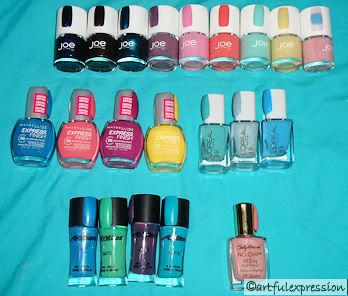 The Joe polishes are from a Canadian grocery store (Superstore), I found the L'Oreal and Maybelline polishes at Jean Coutu (a Canadian drug store), the bottom 4 are from an accessories store, and the Sally Hansen came free with my bottle of nail polish remover (such an awesome deal).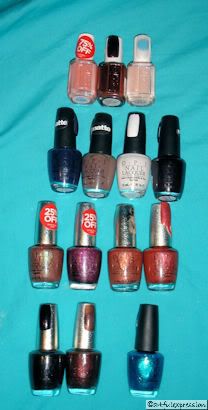 I kind of hit the jackpot at Trade Secrets. The Essie nail polish was 75% off...yes, 75! The matte OPI was on for 5.99$, and all but the bottom row of OPI designer series was 25% off.
So I spent a bunch, and am now going to try and limit myself for the next while. Can't resist the percentage off coupon from Sally though, so I know I will be spending at least 35$ there next pay. If you have any questions about anything that is pictured just leave a comment :D